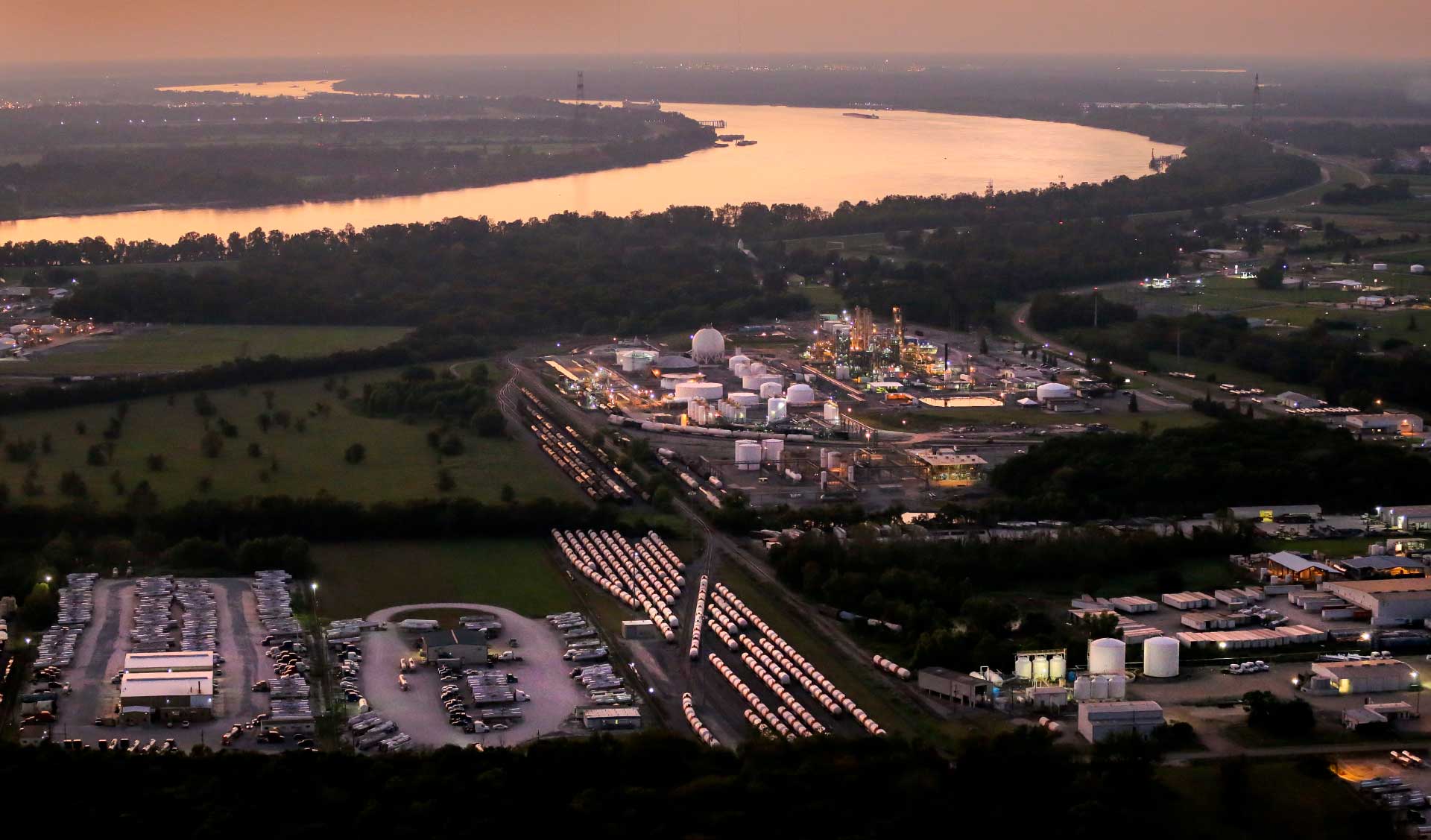 In a Notoriously Polluted Area of the Country, Massive New Chemical Plants Are Still Moving in
This article was produced in partnership with The Times-Picayune and The Advocate, which is a member of the ProPublica Local Reporting Network.
ProPublica is a nonprofit newsroom that investigates abuses of power. Sign up for ProPublica's Big Story newsletter to receive stories like this one in your inbox as soon as they are published.
The industrial stretch of the Mississippi River between Baton Rouge and New Orleans, a region known as "Cancer Alley," is one of the most highly polluted areas in the country. A ProPublica analysis using a scientific model developed by the Environmental Protection Agency shows that some of the neighborhoods where new plants are being built already have very high concentrations of toxic chemicals. But Louisiana continues to approve the building of these new plants and the expansion of existing ones.
The EPA model ProPublica used, known as Risk-Screening Environmental Indicators, or RSEI, calculates the estimated chemical concentrations from toxic industrial plant emissions across the country, down to 810-by-810-meter blocks. We then used that model to find where toxic levels of cancer-causing chemicals are highest in the seven parishes.
Do you live in one of these affected parishes? Share your story with us. ProPublica and The Times-Picayune and The Advocate are investigating the massive chemical plants in the industrial stretch between New Orleans and Baton Rouge, and hearing from you will help us tell more stories.
Talk to us if:
There's a new plant in your neighborhood, and you can tell us how your community has been responding to it.
You've been in contact with the DEQ and/or your parish government about a plant and can share with us what the responses from those entities has been.
You can talk to us about the impact of these plants in your community, including sharing evidence like signage, emails, residue or other anecdotes with us.
Here's how to talk to us:
Tristan Baurick of the The Times-Picayune and The Advocate contributed reporting. Lead image by David Grunfeld of the The Times-Picayune and The Advocate.
Get Notified When We Publish the National Map
Want to see how the toxic levels of cancer-causing chemicals in the air near you compares with the rest of the country? We're already working on it. Sign up for ProPublica's Data Newsletter, and get notified as soon as we publish.
This site is protected by reCAPTCHA, and the Google Privacy Policy and Terms of Service apply.
Sources: EPA RSEI, Louisiana Department of Environmental Quality, US Census, USDA National Agriculture Imagery Program, Microsoft, St. James Parish facility boundary data provided by Justin Kray.
Note: The permit for the South Louisiana Methanol plant was approved in 2014.