Find your representatives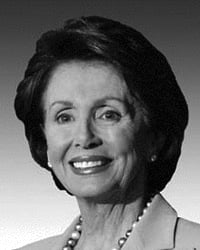 Stance on SOPA

72




Age

24




Years served in House

94.8%


% Votes with Party
Financial Contributions by Industry
| Industry | Election Cycle | Amount |
| --- | --- | --- |
| Computers/Internet | 2010 | $63,475 |
| | 2008 | $72,950 |
| TV/Movies/Music | 2010 | $76,950 |
| | 2008 | $93,550 |
Timeline: Rep. Pelosi and SOPA
A list of statements and legislative actions made by Rep. Pelosi relating to SOPA. Contact us at sopa[at]propublica.org if you have additions or corrections.
Jan 17, 2012
Quoted in POLITICO: "In Calif., divide is north vs. south"
"It is incumbent on the parties that are concerned by the current proposal to offer changes that would effectively deal with piracy."
Nov 17, 2011
Tweets in response to "Where do you stand on Internet censoring and #SOPA?"
"Need to find a better solution than #SOPA #DontBreakTheInternet"
Nov 17, 2011
Statement to The Wrap
"Leader Pelosi strongly supports protecting intellectual property. The problem of rogue websites duping consumers is a real one and deserves Congress' attention. The internet, human rights, and cybersecurity communities have raised concerns that SOPA doesn't strike the right balance that protects the needs of copyright holders and internet users alike. Tens of thousands jobs in all the affected industries require us to find an effective solution that all stakeholders can support."
See a complete list of actions and statements by members of Congress