Find your representatives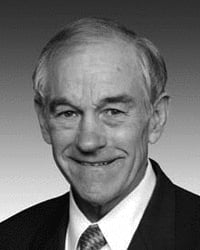 Stance on SOPA

77




Age

24




Years served in House

72.26%


% Votes with Party
Financial Contributions by Industry
| Industry | Election Cycle | Amount |
| --- | --- | --- |
| Computers/Internet | 2010 | $3,856 |
| | 2008 | $818,731 |
| TV/Movies/Music | 2010 | $500 |
| | 2008 | $133,816 |
Timeline: Rep. Paul and SOPA
A list of statements and legislative actions made by Rep. Paul relating to SOPA. Contact us at sopa[at]propublica.org if you have additions or corrections.
Dec 28, 2011
Campaign rally in Des Moines
"There's an attack on the Internet right now...They're opening up the doors to know everything you do and to measure everything you do to protect you from yourself. Let me tell you, governments can't protect you from yourself. And they don't need to be taking over the Internet either."
Nov 17, 2011
Signed letter opposing SOPA to Judiciary committee leadership.
The letter states that: "The SOPA as written, however, is overly broad and would cause serious and long term damage to the technology industry, one of the few bright spots in our economy."
See a complete list of actions and statements by members of Congress