Find your representatives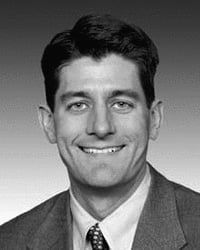 Stance on SOPA

42




Age

14




Years served in House

90.98%


% Votes with Party
Financial Contributions by Industry
| Industry | Election Cycle | Amount |
| --- | --- | --- |
| Computers/Internet | 2010 | $28,850 |
| | 2008 | $17,500 |
| TV/Movies/Music | 2010 | $24,250 |
| | 2008 | $5,000 |
Timeline: Rep. Ryan and SOPA
A list of statements and legislative actions made by Rep. Ryan relating to SOPA. Contact us at sopa[at]propublica.org if you have additions or corrections.
Jan 9, 2012
Joins opposition to SOPA
"The internet is one of the most magnificent expressions of freedom and free enterprise in history. It should stay that way. While H.R. 3261, the Stop Online Piracy Act, attempts to address a legitimate problem, I believe it creates the precedent and possibility for undue regulation, censorship and legal abuse. I do not support H.R. 3261 in its current form and will oppose the legislation should it come before the full House."
See a complete list of actions and statements by members of Congress