Find your representatives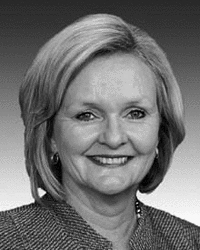 Stance on PIPA

59




Age

5




Years served in Senate

86.03%


% Votes with Party
Financial Contributions by Industry
| Industry | Election Cycle | Amount |
| --- | --- | --- |
| Computers/Internet | 2010 | $24,300 |
| | 2008 | $16,100 |
| TV/Movies/Music | 2010 | $44,475 |
| | 2008 | $53,097 |
Timeline: Sen. McCaskill and PIPA
A list of statements and legislative actions made by Sen. McCaskill relating to PIPA. Contact us at sopa[at]propublica.org if you have additions or corrections.
Jan 19, 2012
States opposition to PIPA in its current form
"I was not a co sponsor of PIPA. I cannot support it in its current form.I will post blog on my Tmblr later to explain. #PIPA"
Jan 18, 2012
Statement from communications director
Trevor Kincaid, McCaskill communications director: "As I'm sure you're aware, the provisions of this legislation are in flux. Claire wants to make sure we can catch the frauds and cheats, she also has real concerns about limiting the freedom of the internet. She's heard from constituents on both sides and is tracking the process -- hoping to see provisions finalized in a way that recognizes both needs. My concern right now, as I'm sure is yours, is making certain that when people contact our office to share their views they are doing so with the right information. Something that is currently being prohibited by the status on your website."

Editor's note: McCaskill's position was labeled as "supporter" because of her co-sponsorship of PIPA's precursor, the Combating Online Infringement and Counterfeits Act. It has been changed to "Undecided" now that we have a statement from her office regarding her deliberations on PIPA.
Source: Email from McCaskill's office
Dec 16, 2010
Cosponsors Combating Online Infringement and Counterfeits Act, S. 3804
COICA contained similar provisions and battle lines as PIPA does. It never reached a full Senate vote and was re-written in 2011 as the PROTECT-IP Act (i.e. PIPA).
See a complete list of actions and statements by members of Congress