Find your representatives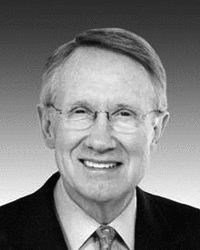 Stance on PIPA

73




Age

25




Years served in Senate

94.04%


% Votes with Party
Financial Contributions by Industry
| Industry | Election Cycle | Amount |
| --- | --- | --- |
| Computers/Internet | 2010 | $299,448 |
| | 2008 | $116,767 |
| TV/Movies/Music | 2010 | $500,300 |
| | 2008 | $84,600 |
Timeline: Sen. Reid and PIPA
A list of statements and legislative actions made by Sen. Reid relating to PIPA. Contact us at sopa[at]propublica.org if you have additions or corrections.
Jan 20, 2012
PIPA postponed
"In light of recent events, I have decided to postpone Tuesday's vote on the PROTECT I.P. Act. There is no reason that the legitimate issues raised by many about this bill cannot be resolved. Counterfeiting and piracy cost the American economy billions of dollars and thousands of jobs each year, with the movie industry alone supporting over 2.2 million jobs. We must take action to stop these illegal practices. We live in a country where people rightfully expect to be fairly compensated for a day's work, whether that person is a miner in the high desert of Nevada, an independent band in New York City, or a union worker on the back lots of a California movie studio. I admire the work that Chairman Leahy has put into this bill. I encourage him to continue engaging with all stakeholders to forge a balance between protecting Americans' intellectual property, and maintaining openness and innovation on the internet. We made good progress through the discussions we've held in recent days, and I am optimistic that we can reach a compromise in the coming weeks."
Jan 15, 2012
Interview on Meet the Press
"I think this needs to be a winner for everyone, not just for the content people...So we need to work on this. And I hope we'll have a manager's amendment when we get back here."
Dec 17, 2011
Motions for a cloture vote to proceed on a full vote for PROTECT-IP
A successful cloture vote would force a time limit for considering the bill, which would block attempts to filibuster it.
See a complete list of actions and statements by members of Congress